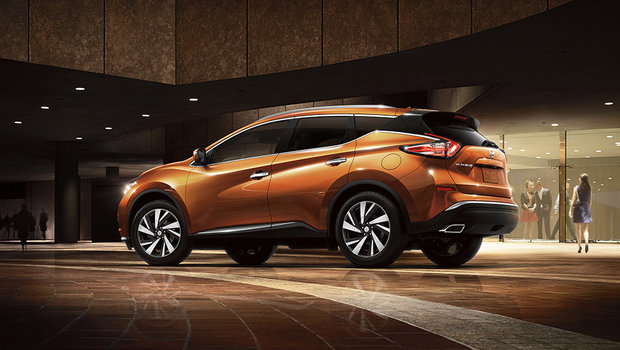 Northern Nissan
There are plenty of ways the 2017 Nissan Murano stands out from its competition, but value is certainly at the top of the list.
The Nissan Murano went from a relatively luxurious SUV with a quirky design to one of the most comfortable and refined vehicles in the midsized sport utility vehicle segment when it was redesigned two years ago. Today, the 2017 Nissan Murano continues to offer high-end features and premium comfort, all in a package that offers tremendous value.
2017 Nissan Murano: Perfect for Whatever Life Throws Your Way
There are plenty of ways the 2017 Nissan Murano stands out from its competition, but value is certainly at the top of the list. Starting at just $30,748, the new Murano is packed with features that include a rear-view camera, push-button start with keyless entry, a navigation system, heated seats and 18-inch aluminum wheels. Again, that's just the base front-wheel drive model.
You can also opt for all-wheel drive models which start at just $37,148. Every 2017 Nissan Murano is powered by a 3.5-liter V6 that delivers 260 horsepower and 240 lb-ft of torque. This engine is paired with a continuously variable automatic transmission dubbed XTronic CVT which greatly improves overall smoothness while also making sure that fuel economy stays in check. Despite its power, the Murano's engine when paired with all-wheel drive has an average fuel economy rating of just 8.4 liters per 100 kilometers on the highway. Front-wheel drive models are even more efficient.
Moreover, when you go with an AWD Murano, you get even more equipment including a power tailgate, panoramic sunroof and even a remote starter to help make those chilly Sudbury winter mornings a little easier to handle.
The 2017 Nissan Murano also features plenty of driver assistance technologies including adaptive cruise control, automatic emergency braking, rear cross-traffic alert and a 360-degree rear-view camera. Leather seats, Bose premium audio system, 20-inch wheels and heated rear seats can also be found in the various 2017 Murano trims.
Comfort is the Priority with the 2017 Nissan Murano
Nissan's midsize SUV is spacious with 908 liters of cargo space behind the rear seats, and packed with technology and features. But what truly sets the Murano apart from the competition can be found in the comfort department. For example, the 2017 Nissan Murano features Nissan's patented Zero Gravity seats throughout the cabin.
These seats were inspired by NASA and provide support to every part of the body which means that long drives never become uncomfortable. The cabin is also quiet and everywhere you look you will see premium materials.
To learn more about the 2017 Nissan Murano, contact us today at Northern Nissan in Sudbury, Ontario!